1. Simple Weapon Storage
With one moving part (the cradle) and two total parts, SecureIt's CradleGrid Weapon Storage System is remarkably simple.
SecureIt's CradleGrid system has just one moving part and is as simple as it gets. The patented cradle fits onto a grid and properly supports any weapon at the barrel, rail or magwell. The base interlocks and is tiered to support the buttstock of any weapon. That's simple!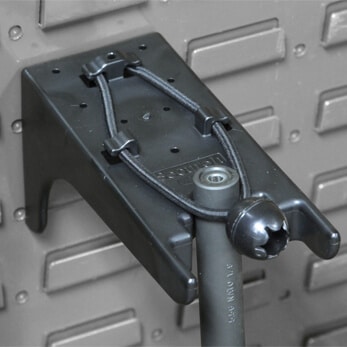 2. Non-proprietary
SecureIt's CradleGrid Weapons Storage System is the only fully non-proprietary system available.
Not only is SecureIt's CradleGrid system elegant in its simplicity, but it's also non-proprietary. While the cradle and base are patented, the grid system itself will accept any number of accessories available at your local hardware or home store. No other military weapon storage system is commercial-off-the-shelf (COTS)! One cradle will store every weapon in your armory.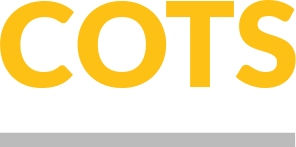 3. Sustainable
Because the weapon storage racks with CradleGrid system adjusts to any and all weapons, there is no fear that it will become obsolete and no need to buy new brackets for new weapons.
The goal of a weapon storage system should be to meet current needs while also allowing flexibility to change with the times. Because the SecureIt CradleGrid system is universally adaptable, it will stand the test of time.
Other weapon storage systems that rely on brackets require the purchase of new brackets anytime you add new weapons. A catalog of brackets is a sure sign of ongoing and costly complexity.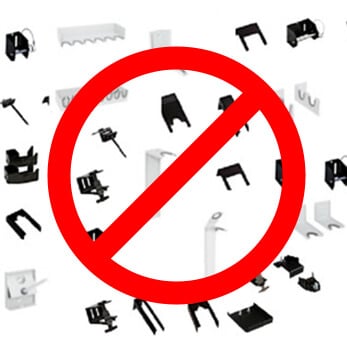 All other systems require you to purchase different brackets for each type of weapon.
4. Affordable
Because of its simplicity, the SecureIt Weapon Storage System is very affordable. There are fewer parts and fewer associated costs.
Simple things cost less. And, simple things create fewer headaches and come with fewer associated costs. A SecureIt Weapon Storage System, because it is so simple, is quite affordable — today, and especially down the road. There are no new brackets to buy, no training costs with new people and no inventory control costs as things change and new weapons are added.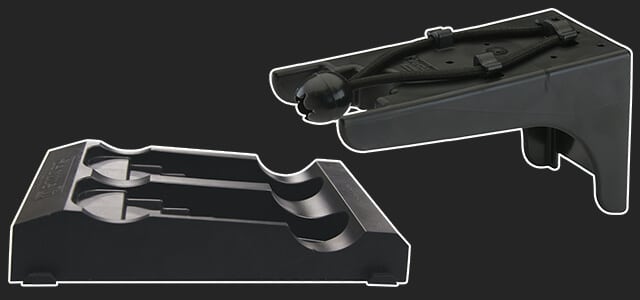 5. Ever organized
Because of SecureIt's trademark adaptability, you'll never run into the inefficiencies and frustrations that invariably come with changing weapons and inflexible weapon storage systems.
With other storage systems, as weapons and personnel change, what was originally organized becomes less so. This can lead to ineffective storage and even damage to weapons, the very problems that weapon storage is meant to eliminate.
Thanks to SecureIt's remarkable adaptability and intuitive use, you'll never run into deteriorating storage results.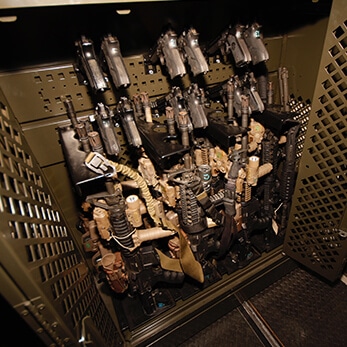 6. Optics-friendly
SecureIt's CradleGrid system was designed to provide storage space for weapons with optics attached.
Not that long ago, optics were not a common storage concern, and obsolete weapon storage systems still do not account for the critical importance of protecting on-weapon optics. SecureIt weapon storage not only accounts for optics, it is designed to protect them from bumping and damage, something that should absolutely never happen.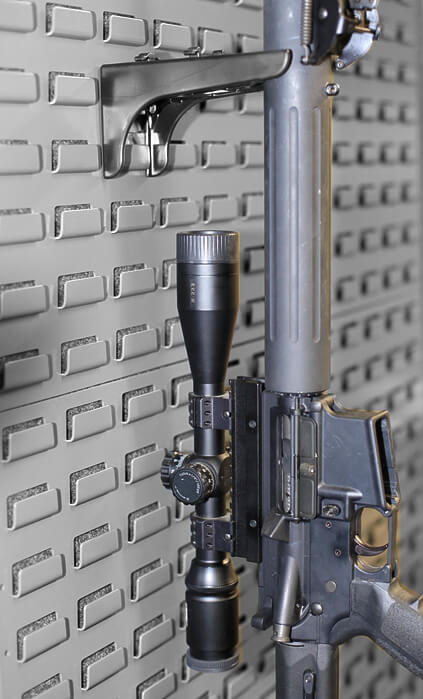 7. Gear-friendly
SecureIt Weapon Storage Systems also accommodate the additional gear and accessories that must be organized and stored.
Thanks to the incredible flexibility and adjustability of SecureIt's CradleGrid system, you can design-in any amount of gear storage desired. And, not only that, you can readily and easily reconfigure your SecureIt storage to adapt to changing gear needs. No other weapon storage system offers this level of simple adaptability.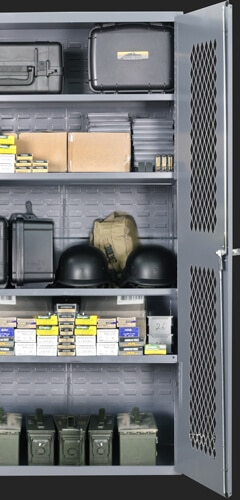 8. Easy to design
With SecureIt, you can build out an entire armory with just one or two cabinets. Choose from any of our five military weapon storage racks, available with either bi-fold or retracting doors.
Another key to the simplicity offered by SecureIt weapon storage is the reasonable number of cabinets from which to choose. Because each is so versatile, most customers can build out their entire armory with just one or two cabinets.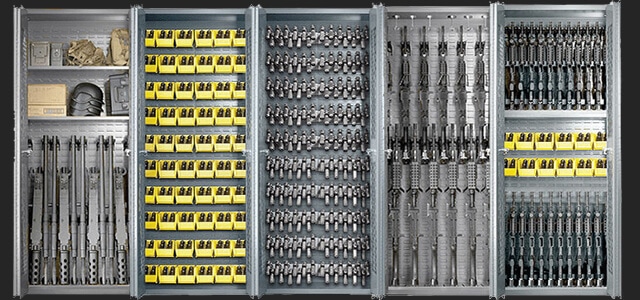 9. Available for consult
At SecureIt, we are always available to help you design the perfect weapon storage system for your armory and situation. We are just a phone call away.
Having developed and installed weapon storage solutions for all branches of the military, in all theaters of operation, we've probably already seen it all. We are here to help you create a weapon storage system optimized for your situation.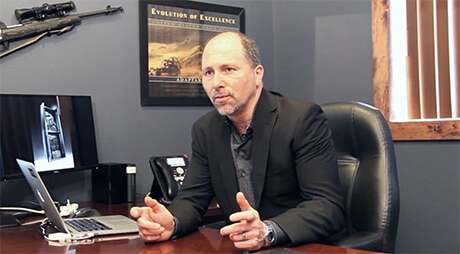 Related:
---
Understanding Modern Weapon Storage.
After 15 years of designing and building military armories all over the world, I thought it was time to put my thoughts down and create a series of educational pieces about modern weapon storage.

In the last few years, several office and filing storage manufacturers have entered the weapon storage rack market. These companies do not appear to have any real experience in this field. The storage systems they are representing or manufacturing simply do not work well in military armories…. continue to Weapon Storage 101
---
How SecureIt is Saving the Pentagon $$$… Potentially Millions
You can upgrade instead of scrap your old space-saving weapon racks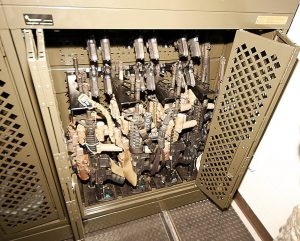 There are tens of thousands of weapon storage racks in use by our military. Most of which are 12-18 years old. These older design systems are creating a serious problem. Weapons have changed, equipment has changed.
Before you scrap and replace these old space saving systems, consider upgrading them.
learn more: Upgrade space saving weapon  racks
---
Weapon Racks: How to Build an Armory
Learn how to Build out a typical weapon storage armory system to fit your equipment.
Here I take an actual weapons density list and build out the basic armory, then make some changes to add additional storage.

In many armories, you will need shelving space for cases, mounts, and other gear. Learn the simple process to quickly figure out how many and what type of weapon racks you need to rebuild your armory. Learn more:  Weapon Racks: How to Build an Armory
---
Replacing old complex weapon racks
If your armory is a mess and simple tasks take all day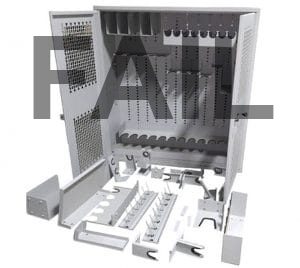 We have just completed the Travis AFB Project. This armory had become dysfunctional as a result of the complex weapon storage cabinets and non-US locking system. The unit had purchased Canadian weapon racks (Dasco) to outfit their armory. They were sold on the modular back panel and a wide variety of brackets to store all their guns.
The problems started almost immediately. The Abloy Lock in each cabinet is designed for a Canadian standard. It really doesn't work well in a US military armory. All the different brackets were driving them nuts. learn more: Weapon Racks: Replace Complex Storage
---
See All: Weapon Rack Knowledge Base