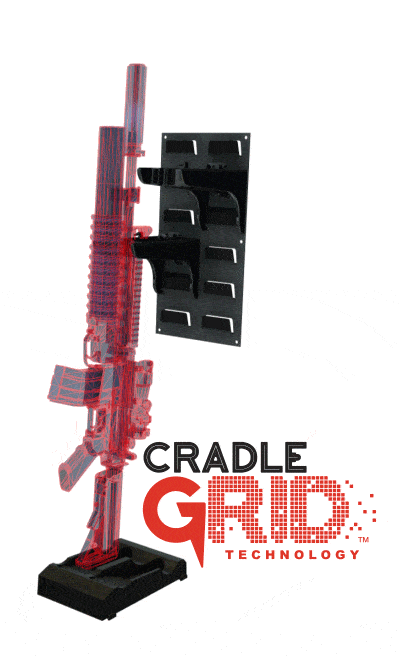 The adaptable, adjustable and smart weapon storage system
that is changing the way military armories work!
Weapons storage has not fundamentally changed in decades. It is static and certainly has not kept up with the sweeping changes in the size and shape of military weapons, especially since 2001.
Recognizing this pattern, SecureIt, in conjunction with the U.S. Army Special Forces, developed patented technology that adapts to any situation. Called CradleGrid, this ingenious system features a single moving part, the cradle, which universally fits every weapon in the armory. The cradle can be instantly repositioned on a grid that is affixed to the back wall of all SecureIt weapon racks and cabinets for easy reconfiguration, without tools. The second part of the system is a universal base designed to accommodate the butt stock or spade grip of any weapon. The base is tiered to ensure proper lean angle.
Designed to accommodate weapons with optics
CradleGrid weapon racks also accommodate weapons with optics attached, so you'll never need to re-zero because of an inadequate weapon storage system.
Straight-line access to weapons and organizational awareness
With SecureIt's CradleGrid system, you get straight-line access to each and every weapon. There is never a need to move other weapons out of the way. You also get a comprehensive view of your entire weapons line-up for maximum efficiency. Organize your armory as you see fit, not as your storage system dictates.
---
Beware of Cheap Imports!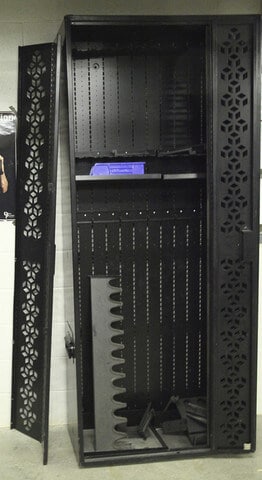 Recently we have seen what can best be described as "Cheap Import" weapon racks entering the US market. Distributors of these cheap weapon racks reference Army and Navy regulations AR190-11 and OPNAV 5530 as points of security and quality of manufacturing.
DOD requirements ( AR190-11 and OPNAVINST 5530.13C) are not standards for quality or good design.
They simply make reference to minimum standards relating to locking bars and hinges. learn more: Weapon racks: Beware of Cheap Imports
---
The 4 Basic rules for a functional armory
Keep it simple
Complexity is perhaps the biggest problem we see in weapon storage armories today. Current manufacturers have taken the concept of flexible weapon storage that we outlined in our brief to USAFC 10 year ago, way off the deep end. (see Arms room assessment )Many weapon racks on the market today have so many brackets and different parts they are simply are not stable storage platforms.
Weapon Racks are designed to store weapons not gear
Gear storage is a growing problem. The volume of serialized and high value gear going into armories is increasing. Weapon racks do not properly store this gear and results in high damage and loss rates as well and poor inventory/audit function. Serialized gear should be stored in steel drawer cabinets with adjustable dividers.
When working with a supplier to upgrade your armory make sure they know what they are doing
Most of the problems related to bad or inefficient weapon storage systems and armories trace back to inexperienced or negligent distributors and sales representatives. Make sure the salesman talking to you about storage knows what he is doing.
If the supplier's main business is office and filing solutions or focused on industrial warehouse storage, then you need to ask them a few qualifying questions. see: Evaluating the competence of your sales-rep
Do you really need a high density mobile aisle storage system?We see a lot of these systems being installed. In many cases, they are the wrong choice. While these systems can save a lot of space, there are serious workflow and ergonomic issues to be considered. This takes us back to making sure your sales rep is experienced.  See: Understanding High Density weapon Storage