Weapon Storage: How to Build an Armory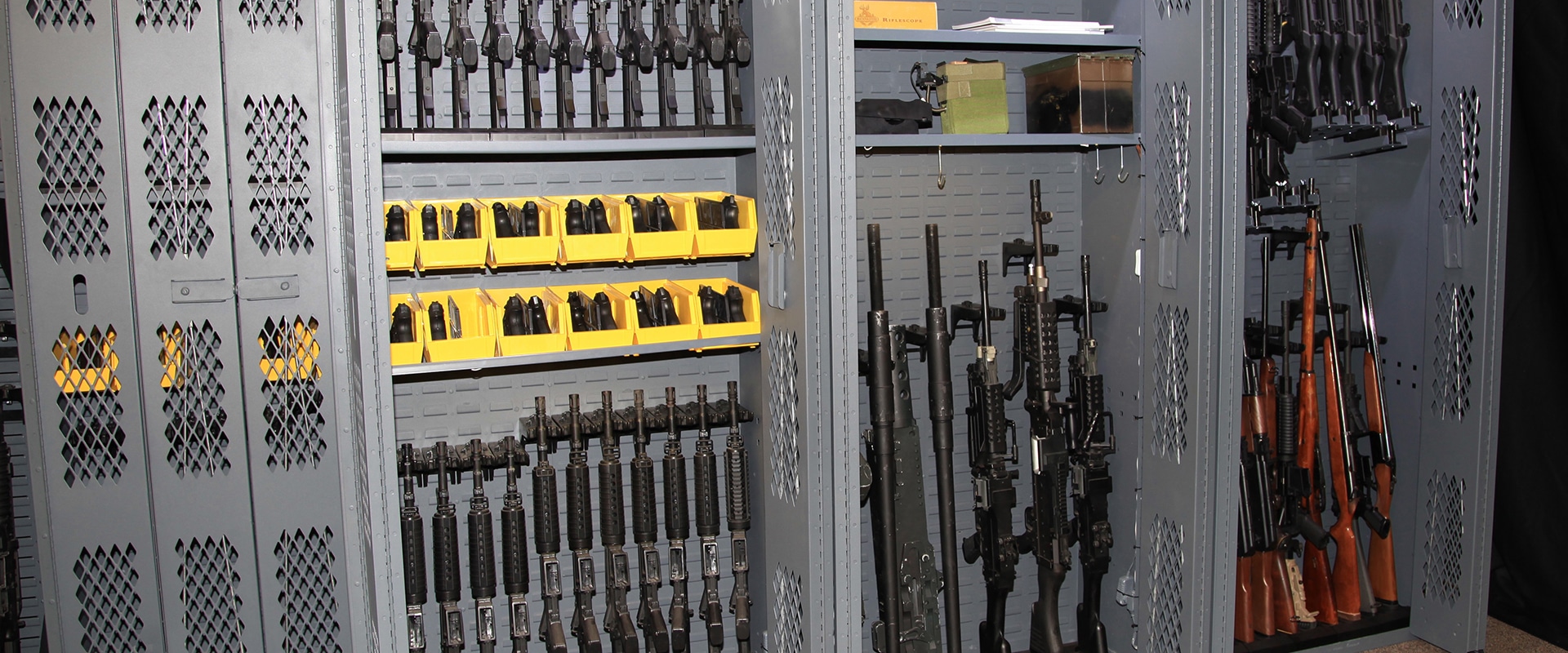 Learn how to build out an entire armory in minutes.
There are many ways to solve weapon storage and armory challenges. Here we provide some basic insight into the process.
Do not hesitate to let us do the work:
Request assistance or a quote: Request info
We offer consulting and basic design work at no charge.
SecureIt is the global leader in military weapon storage and armory design
To make it as easy as possible SecureIt has created 5 kitted configurations of our Model 84 weapon storage racks that makes design and setup fast and easy. SecureIt also offers a variety of other weapon cabinets and weapon transport systems. Contact our design group for assistance.

NSNs:
24/24                          1095-01-599-5325
Crew-Serve                1095-01-599-4865
Machine gun              1095-01-599-4868
HD Handgun             1095-01-599-4782
Std. Handgun            1095-01-599-4865

Building out a typical weapon storage armory system.
Here I take an actual weapons density list and build out the basic armory, then make some changes to add additional storage.

Type
M4:
M500:
M14:
M9:
M249:
M240:
MK19:
M2:



This is a typical weapons list. There will also be optics, NVGs, and other associated gear.The above weapons list requires 191 weapon spaces to fit all the weapons see: "How many racks do I need"Starting with the 24/24 cabinet 191 spaces equals 8 weapon racks (191 ÷ 24 = 7.96 or round up to 8 cabinets)Example:The Weapon Storage Platform allows for easy and fast configuration of the cabinets.The drawing shows all weapons in the above list, properly stored in the 8 cabinets.

We use 8 24/24 cabinets. the saddles and bins are adjusted to fit all weapons

Adding more storage to your systemIn many armories, you will need shelving space for cases, mounts, and other gear. Here we swap 1 24/24 cabinet for 2 Crew-served (CS4) cabinets to gain shelf space. Each CS4 has12 weapon spaces with 3 full span 900lb capacity storage shelves.
Example: In the drawing, I have removed 1 24/24 cabinet and added 2 CS4 units. This gives you the same amount of weapon storage space, plus adds storage shelving.

Example: I have removed 1 additional 24/24 and added 2 more CS4s. As you can see, you now have quite a bit of storage build into the system.

In terms of total weapon storage, one 24/24 cabinet equals 2 CS4 cabinets. Note: The CS 4 cabinets do not have handgun bins. In most armories, the number of long guns ( rifles/crew-served) far exceeds the number of handguns so a mix of 24/24 and CS4 cabinets will usually store all handguns. If you have a high quantity of handguns then consider adding HD-Handgun cabinets, each will store 220 handguns.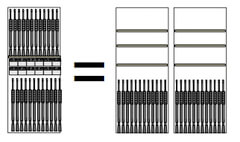 Optics and gear storageThe 120-bin handgun, optics and gear cabinet have 60, 6″ x 11″ x 5″ storage bins, each with a removable divider. The bins are used to store handguns, optics and other gear. Each bin is rated at 30lbs. Also see: Gun Cabinet Storage Bins
Example: Here I have added 2 bin cabinets to a basic weapon storage configuration. There is now organized storage for NVGs, optic, magazines or other gear.Bins from the 120-Bin cabinets can be used throughout the system.
Example: Image – Bins from the 120-bin cabinets have been swapped with shelves from the CS4 cabinets. This allows you to organize gear, optics, handguns, and weapons in a manner that best meets your mission needs.As you can see the SecureIt Tactical Weapon Storage Platform allows you total control and total system flexibility.

There are many ways to solve weapon storage and armory challenges. Here we provide some basic insight into the process.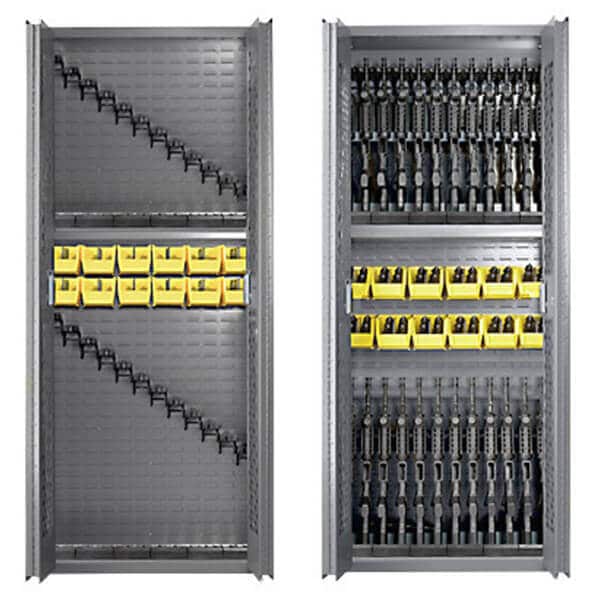 SecureIt 24/24 cabinet
1095-01-599-5325
This cabinet will hold every weapon in a military armory and is the primary weapon cabinet used in most weapon storage projects.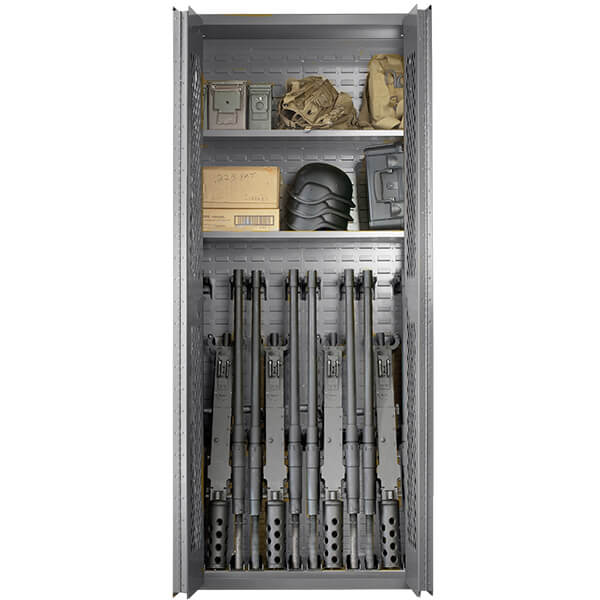 SecureIt CS4 Crew-served cabinet
1095-01-599-4865
The Crew Served Rack configuration is designed to store crew served or other weapons in the bottom with 2 storage shelves above. Capacity is 4 M2 or MK19s, 6 M240 / M249s, 12 Rifles or a combination. Adding a few crew-served racks to you armory will give you flexible weapon racking with gear storage shelves above.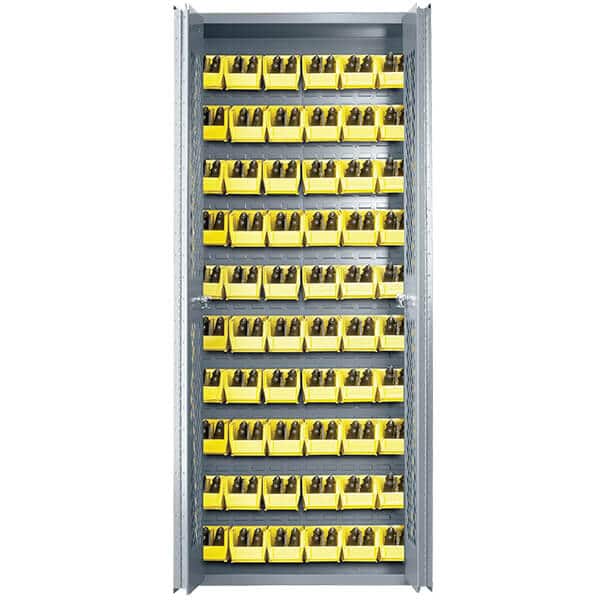 SecureIt 120-Bin Cabinet
 1095-01-599-4865
The Handgun and gear configuration can store 120 M9 handguns or a wide variety of optics and gear. Modular bins have removable dividers and can be relocated in any SecureIt cabinet. Bins adjust on the back panel and may be used in any SecureIt rack for optimum organization.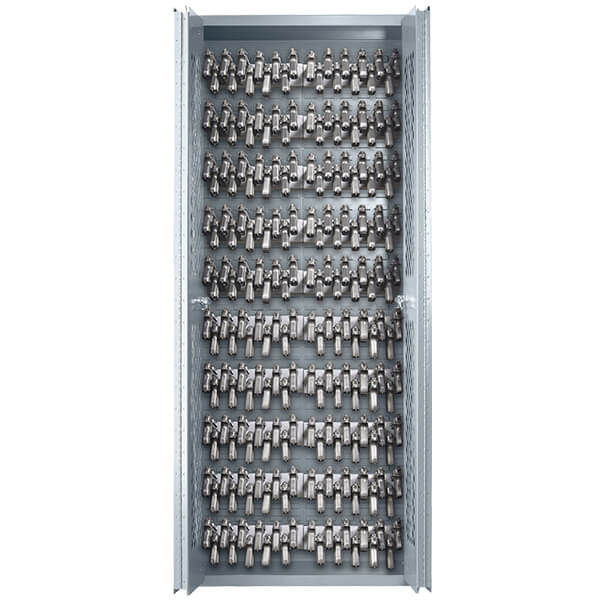 SecureIt HD-Handgun Cabinet
1095-01-599-4782
High-Density Handgun cabinet is used when you have a large quantity of handguns to store.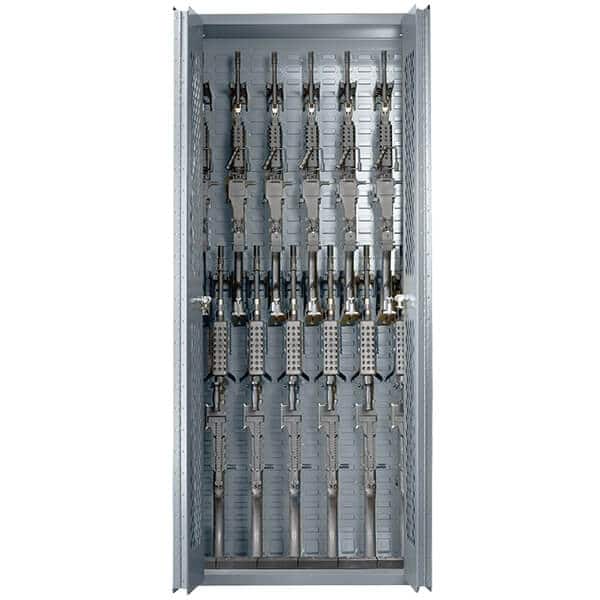 SecureIt MG12 Cabinet
1095-01-599-4868
Machine gun cabinet uses 6 single capacity rifle shelves. This allows the upper rifle stocks sit between lower rifle barrels. Popular when you have a lot of M240 and M249 other rifles over 42″ long where rifle length requires that the stocks and barrels overlap.
The interior of the retracting door cabinet is identical to the bi-fold cabinets and all parts are interchangeable. Retracting door cabinets are designed for high-density mobile aisle systems where the system is designed to be operated with all rack doors open. For most armory applications, bi-fold door cabinets are a better choice.