Requirements Have Changed
There is never enough room
Issue and recovery
takes too long
Sight counts take forever
You can solve these problems!
Total Armory Storage Solution
Affordably upgrade existing racks to the new standard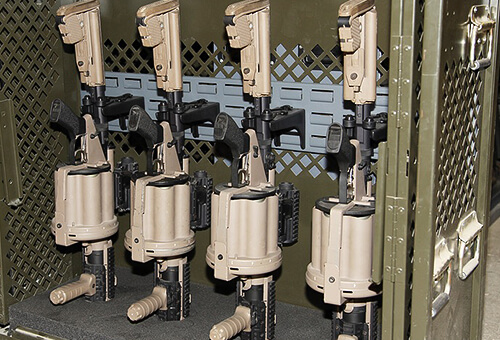 Integrate weapon storage and deployment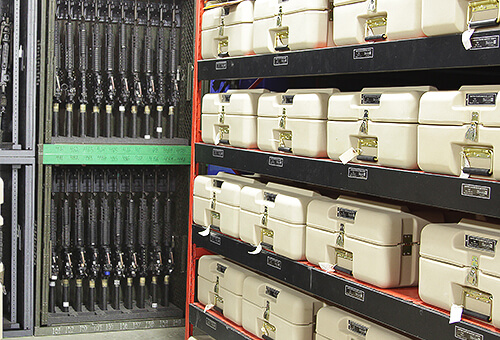 Advanced optics storage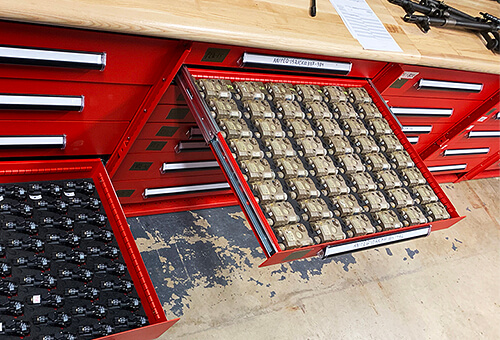 Integrate weapon and SL3 / BII Gear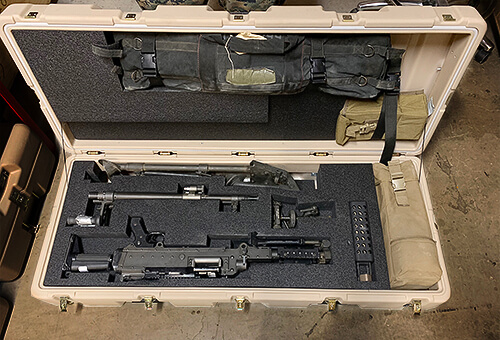 Complete Armory Design Services
Workflow and ergonomic testing. Proof of design concepts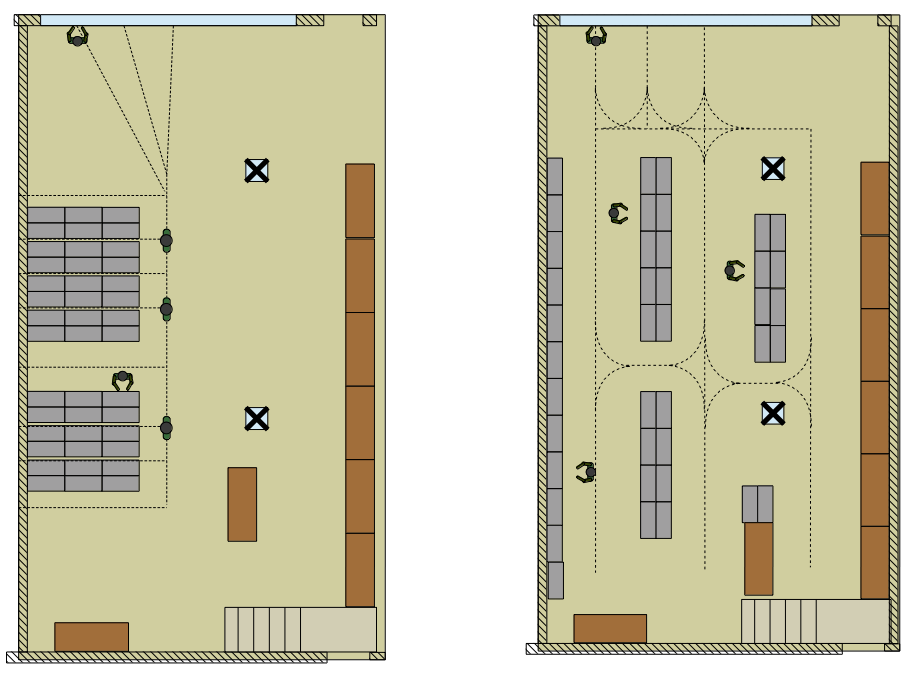 Improve Asset Accountability
-Everything has a storage location
-Kit Weapons/Optics/Mount/Tripod/SL-3 -BII as one complete system suit
-Conduct Daily Sight Counts faster and more accurately
-Conduct MSIs or serialized Inventories faster and more accurately
Save Time and Money
-Locate items faster
-Speed up Issue/Recovery of armory assets
-Conduct SL-3 / BII Inventories within less time and more accurately, while preventing loss or misplacement
Provide a larger work area
-Providing a storage spot for all armory assets and at the same time providing a larger maintenance and work area
Embarking, Transport or Shipping
-Provide proper storage during movement
-Keep weapons and supported equipment Combat ready during shipment
-Keeping Ordnance Equipment from being exposed to elements
Safety
-Weapons secured using two points of resistance guns won't just fall out of weapons racks.
-Answers the haphazardly unsafe storage of equipment on top of double stacked racks, hanging from bungee straps attached to chain-link cage dividers…etc.
-Secure organized storage for everything stored within the armory
Introducing
Snap-Lock Saddle System
This is a game changer!
Guns falling from weapon storage racks is a  serious problem.
SecureIt's new Snap-lock system is the answer.
3 point positive grip       Guns "Snap" into rack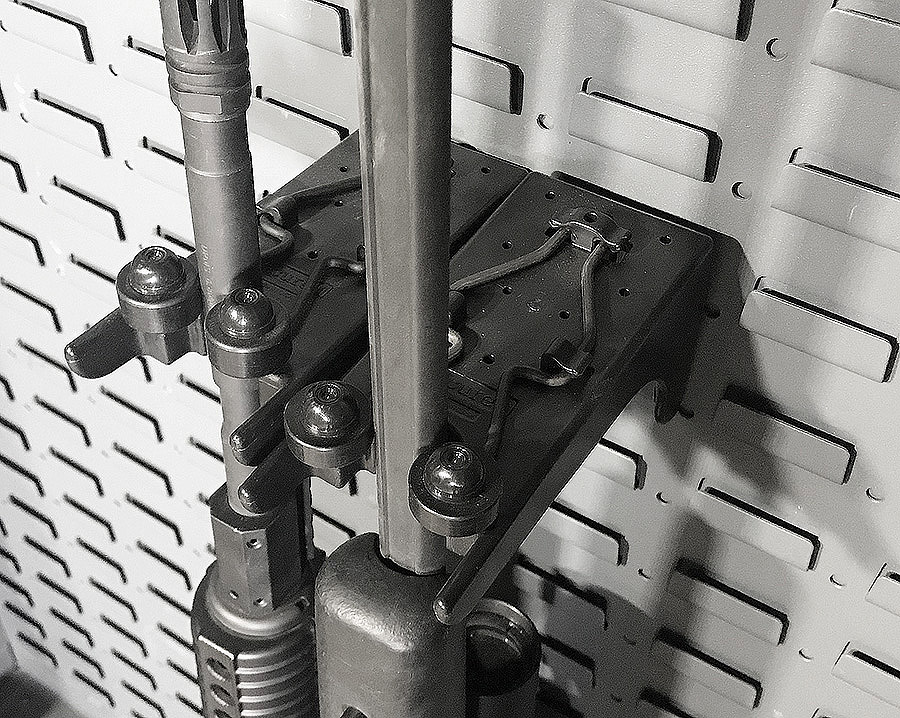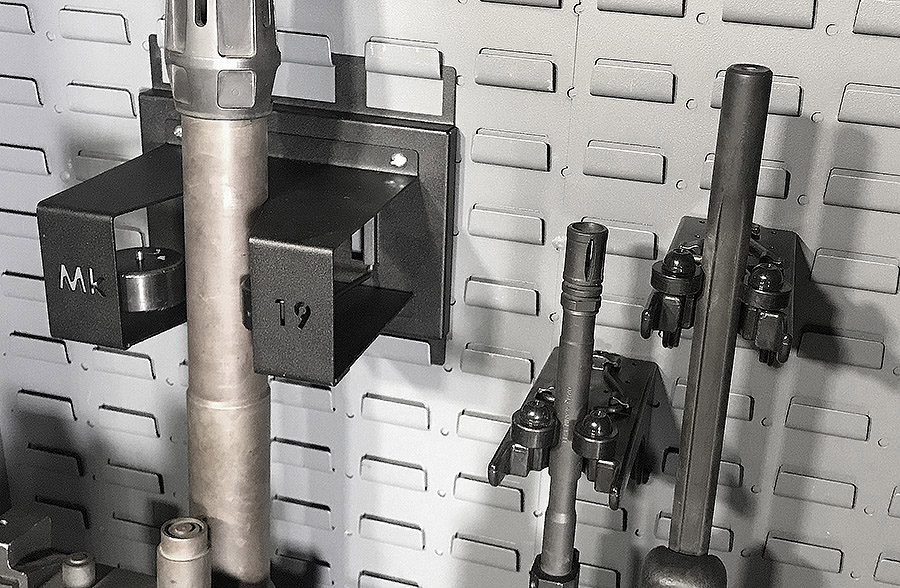 Patent Pending
Snap-lock Saddles are available for all rifles, shotguns,
crew served weapons, most shoulder launch and mortar systems
The concept is simple and very effective. Our new patent pending system allows you to literally snap weapons into the racks. Weapons can be placed or removed from the weapon racks quickly with 1 hand.
Upgrade "Space-saving" Universal Weapon Racks
The universal weapon rack has been around for a long time. Many military units are replacing them with modern systems.
Before you scrap the old racks, consider upgrading them.

Is flexibility and modularity killing armory function?
Most weapon racks today are designed to be "ultra flexible" where by anyone can quickly change or relocate the internal components. This sounds great during a presentation but in reality, this is what is causing a lot of the issues.
Read the report summary:
SecureIt Arms Room Assessment Summary
SecureIt Solves Armory Problems
Running out of space?
Weapon Storage and Armory Space
Which weapon racks have the smallest footprint?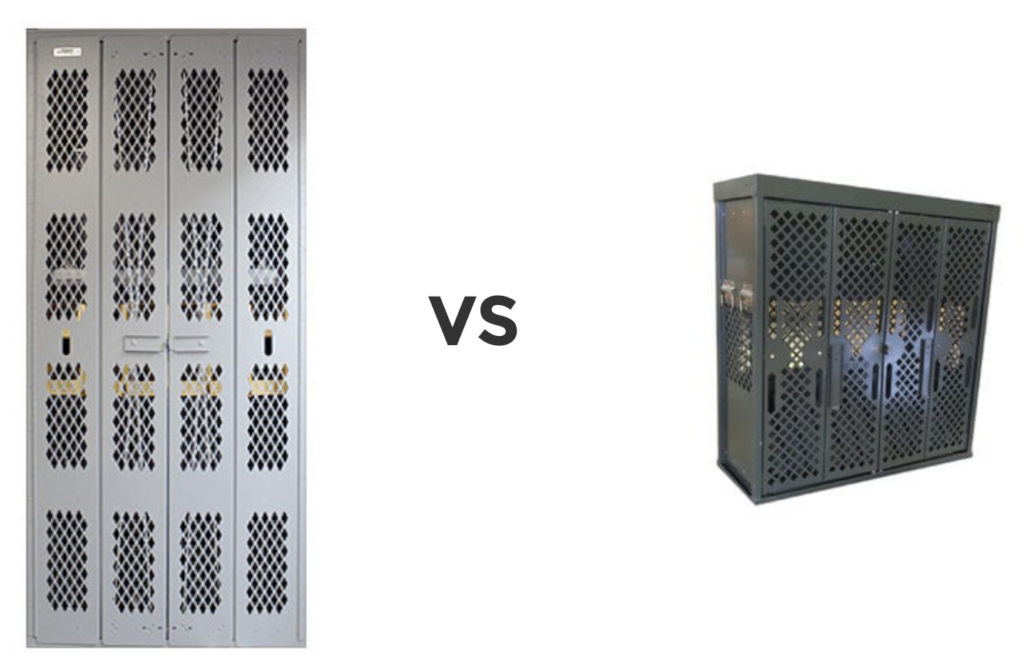 SecureIt vs Universal Weapon Racks
Comparing the SecureIt® high-density weapon storage racks and the space saving racks.
Don't let the name fool you!
SecureIt Weapon Racks are far more efficient and save much more space… [more]
---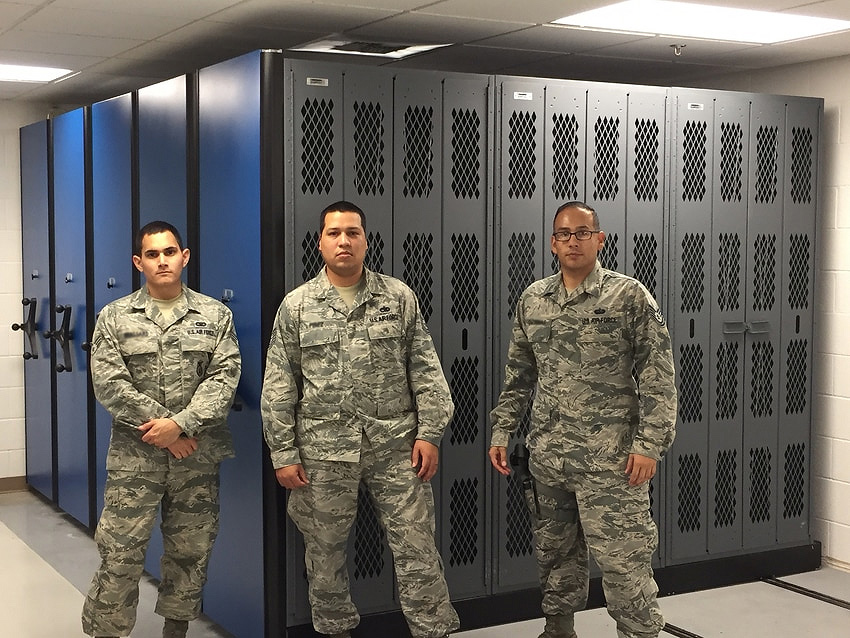 Why many systems fail and how to avoid it
High-density weapon storage on a moving aisle system is an effective and popular way to increase arms room capacity. Proper design, material selection, and system configuration are critical to long-term performance.
Learn more: High Density Weapon Storage
Planning Is The Key to Success
We take a different approach…and it's working
SecureIt is now the largest global builder of military armories
Capabilities
SecureIt Tactical has consulted, designed and installed weapon storage systems in all branches of the United States military, Federal, State and local law enforcement communities.
SecureIt Tactical developed a revolutionary weapon storage platform under contract with the
United States Army Special Forces Command (USASFC)
SecureIt Tactical designed this patented system to address all modern weapon systems and hasbeen successfully elded, utilizing the industrial standard louvered panel in an all welded steelcabinet.
Contracts:
Secureit Tactical has decades of experience in government procurement methods and our staff is ready to assist in making your purchase an easy process.
Please contact: Contracts Team
Marine Corps IDIQ
Contract Number   SPE7MX-18-D-0010
IDIQ   M6740018D0026
Over 200 SKUs available to provide a full arms room overhaul.
1095-01-599-5325      1095-01-599-4882
1095-01-599-4865      1095-01-599-4878
1095-01-599-4868      1095-01-599-4880
1095-01-599-4871      1095-01-599-4886
1095-01-599-4782      1095-01-599-4887
Tailored Logistics Support
Administered by DLA Troop Support provides rapid procurement method by registered DOD users both INCONUS and OCONUS.  Ask for more information.
DLA Direct provides for another rapid method to go directly to DLA for a specific purchase request.
GSA Contract # GSA
Contract Number: GS-07F-5910R
(Through Greenline Data, Inc.)
Law Enforcment:
HIRE CONTRACT # PC66817.
Firearms Storage for the Hunter, Sportsman and Shooting Enthusiast
Firearm storage has not fundamentally changed in decades. It is static and certainly has not kept up with the sweeping changes in the size and shape of firearms. A herd mentality prevails, whether it's a gun safe or a gun cabinet – put 'em in the barn and close the door. Guns bump against guns. Little room for scopes. No respect for your firearms.
SecureIt brings 18 Years of military armory experience to the consumer market.
We are tuning the gun sage industry upside down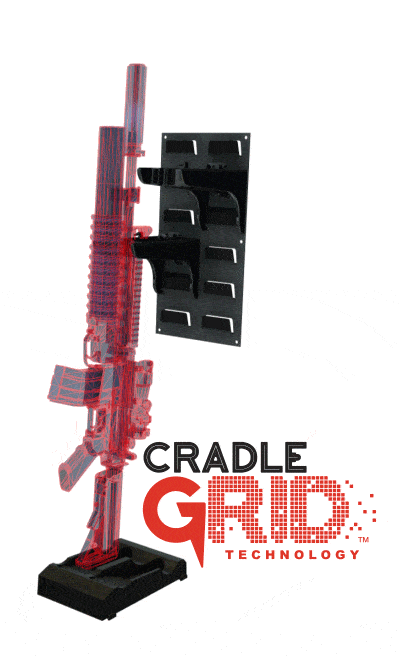 The adaptable, adjustable and smart weapon storage system
that is changing the way military armories work!
Weapons storage has not fundamentally changed in decades. It is static and certainly has not kept up with the sweeping changes in the size and shape of military weapons, especially since 2001.
Recognizing this pattern, SecureIt, in conjunction with the U.S. Army Special Forces, developed patented technology that adapts to any situation. Called CradleGrid, this ingenious system features a single moving part, the cradle, which universally fits every weapon in the armory. The cradle can be instantly repositioned on a grid that is affixed to the back wall of all SecureIt weapon racks and cabinets for easy reconfiguration, without tools. The second part of the system is a universal base designed to accommodate the butt stock or spade grip of any weapon. The base is tiered to ensure proper lean angle.
Designed to accommodate weapons with optics
CradleGrid weapon racks also accommodate weapons with optics attached, so you'll never need to re-zero because of an inadequate weapon storage system.
Straight-line access to weapons and organizational awareness
With SecureIt's CradleGrid system, you get straight-line access to each and every weapon. There is never a need to move other weapons out of the way. You also get a comprehensive view of your entire weapons line-up for maximum efficiency. Organize your armory as you see fit, not as your storage system dictates.
---
Beware of Cheap Imports!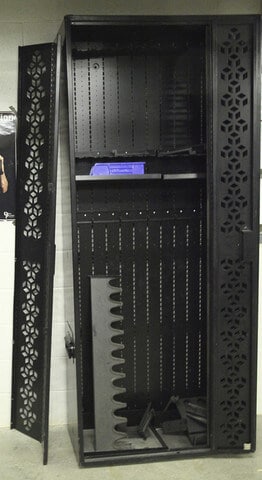 Recently we have seen what can best be described as "Cheap Import" weapon racks entering the US market. Distributors of these cheap weapon racks reference Army and Navy regulations AR190-11 and OPNAV 5530 as points of security and quality of manufacturing.
DOD requirements ( AR190-11 and OPNAVINST 5530.13C) are not standards for quality or good design.
They simply make reference to minimum standards relating to locking bars and hinges. learn more: Weapon racks: Beware of Cheap Imports
---
The 4 Basic rules for a functional armory
Keep it simple
Complexity is perhaps the biggest problem we see in weapon storage armories today. Current manufacturers have taken the concept of flexible weapon storage that we outlined in our brief to USAFC 10 year ago, way off the deep end. (see Arms room assessment )Many weapon racks on the market today have so many brackets and different parts they are simply are not stable storage platforms.
Weapon Racks are designed to store weapons not gear
Gear storage is a growing problem. The volume of serialized and high value gear going into armories is increasing. Weapon racks do not properly store this gear and results in high damage and loss rates as well and poor inventory/audit function. Serialized gear should be stored in steel drawer cabinets with adjustable dividers.
When working with a supplier to upgrade your armory make sure they know what they are doing
Most of the problems related to bad or inefficient weapon storage systems and armories trace back to inexperienced or negligent distributors and sales representatives. Make sure the salesman talking to you about storage knows what he is doing.
If the supplier's main business is office and filing solutions or focused on industrial warehouse storage, then you need to ask them a few qualifying questions. see: Evaluating the competence of your sales-rep
Do you really need a high density mobile aisle storage system?We see a lot of these systems being installed. In many cases, they are the wrong choice. While these systems can save a lot of space, there are serious workflow and ergonomic issues to be considered. This takes us back to making sure your sales rep is experienced.  See: Understanding High Density weapon Storage