Replacing Old Complex Weapon Racks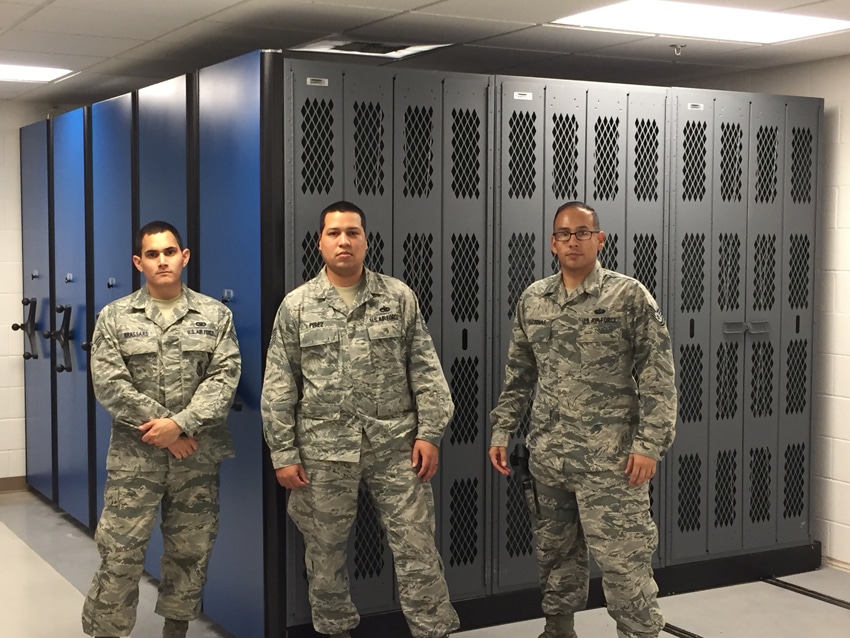 We have just completed the Travis AFB Project.
This armory had become dysfunctional as a result of the complex weapon storage cabinets and non-US locking system. The unit had purchased Canadian weapon racks (Dasco?) to outfit their armory. They were sold on the modular back panel and a wide variety of brackets to store all their guns and anything new they might get.
The problems started almost immediately. The Abloy Lock in each cabinet is designed for a Canadian standard. It really doesn't work well in a US military armory. The hardened steel laser cut key goes into the lock to open the cabinet. The key must remain in the lock while the door is opened. The big issue here is the key sticks out almost 3″. When clothing catches or the gear hits the key, it snaps off. Hardened steel is brittle. Now the rack must be pulled from service and the key and lock replaced. This is time-consuming (weeks to ship) and expensive .00.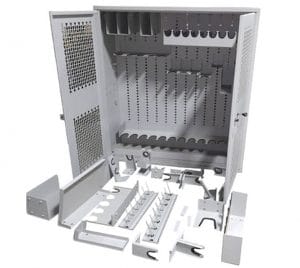 Key control was a real pain as the Abloy keys are quite a bit larger than standard weapon rack lock keys and did not fit into their key cabinet.
The Dasco bracket system worked when first installed. When the units weapon density list changed the idea of getting new brackets for the new type of weapons sounded easy however there was no money in the budget for new parts. Adapt and overcome….. They had to use the incorrect brackets for their new fielded weapons which did not work well. Now things were not fitting well and it took a lot longer to get the guns into the gun racks.
The time required to issue weapons was way too slow. The locks took forever to open and the weapons did not fit into the racks well.
SecureIt was brought in to consult on the issues. We made several recommendations which included installing our weapon rack upgrade kit into the complex Dasco weapon racks. This would convert the racks to use our simple CradleGrid system.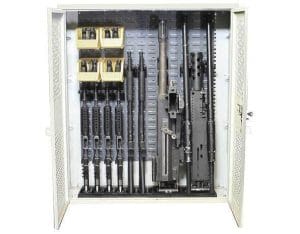 While this was a very affordable and simple solution, it was determined that the lock issue were too significant to keep the Dasco cabinets in service. So we designed a small footprint high-density mobile aisle system with Model 84 weapon racks. The result is a 70% reduction in time to issue and return weapons, all weapons now fit properly and the system can adapt to any changes without the need to purchase any additional components.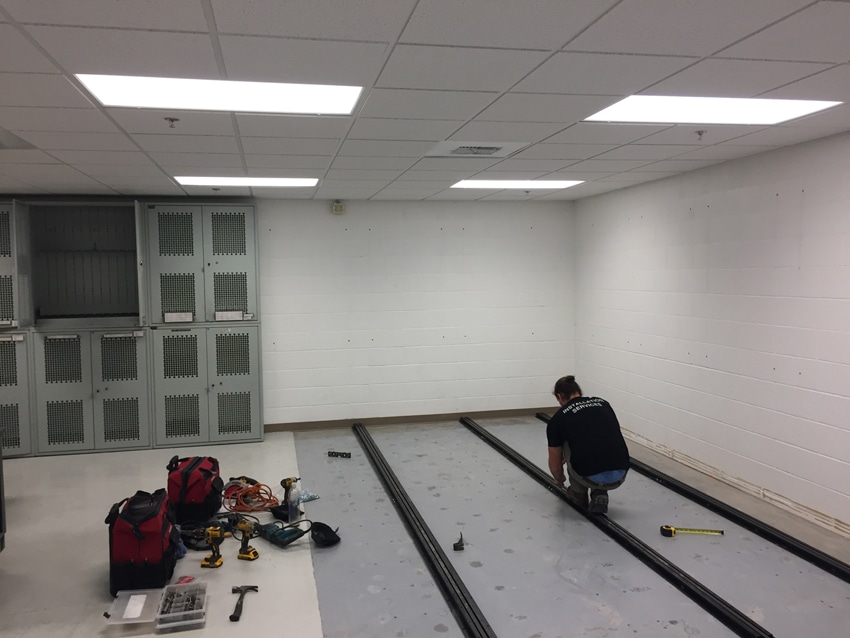 High-density storage: Rail systems laid out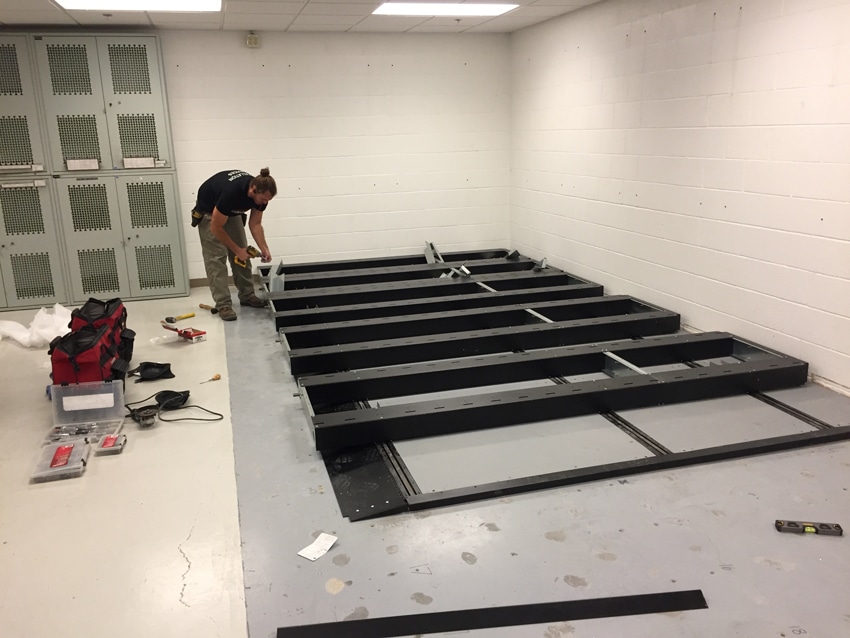 High-Density Storage: Carriages are set on rails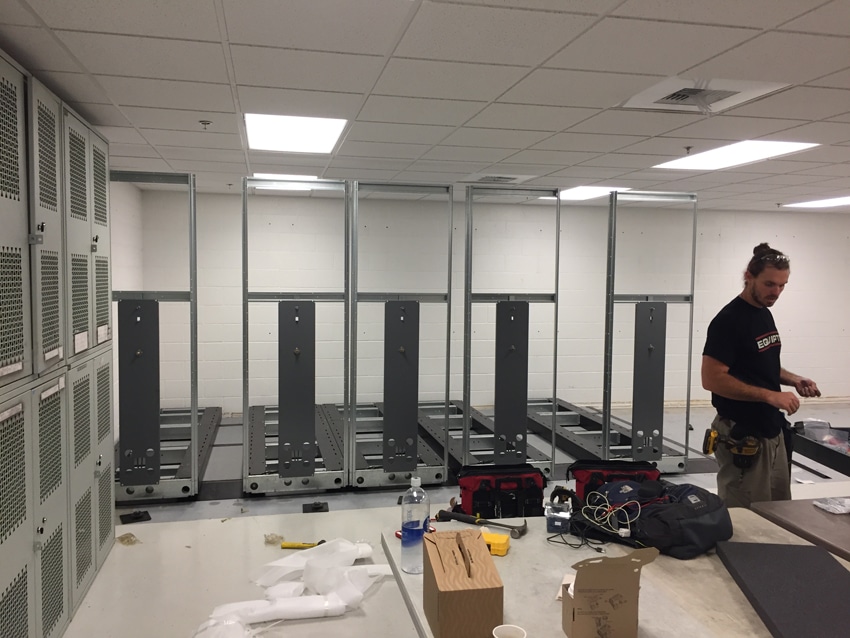 High-density storage: Drive mechanism is installed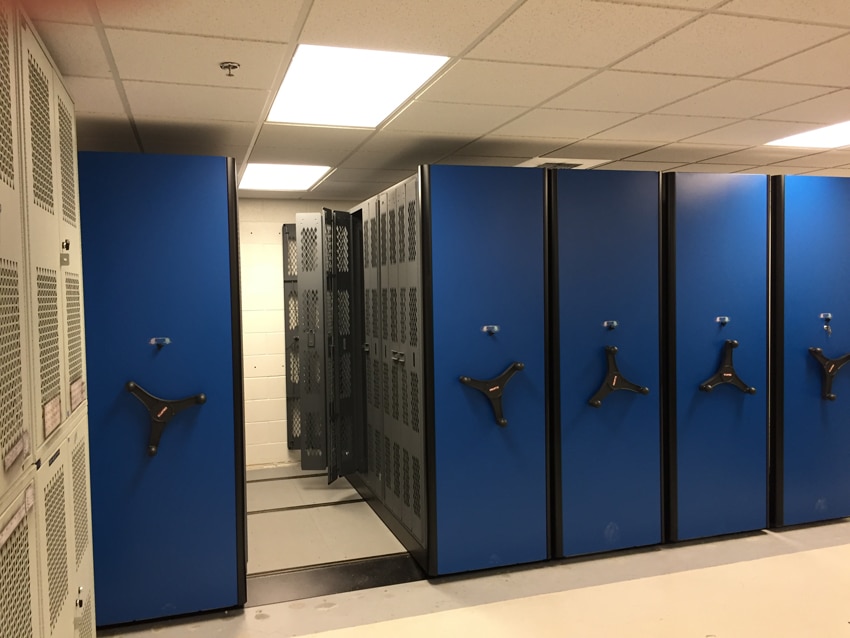 High-density storage: weapon racks mounted and end-panels installed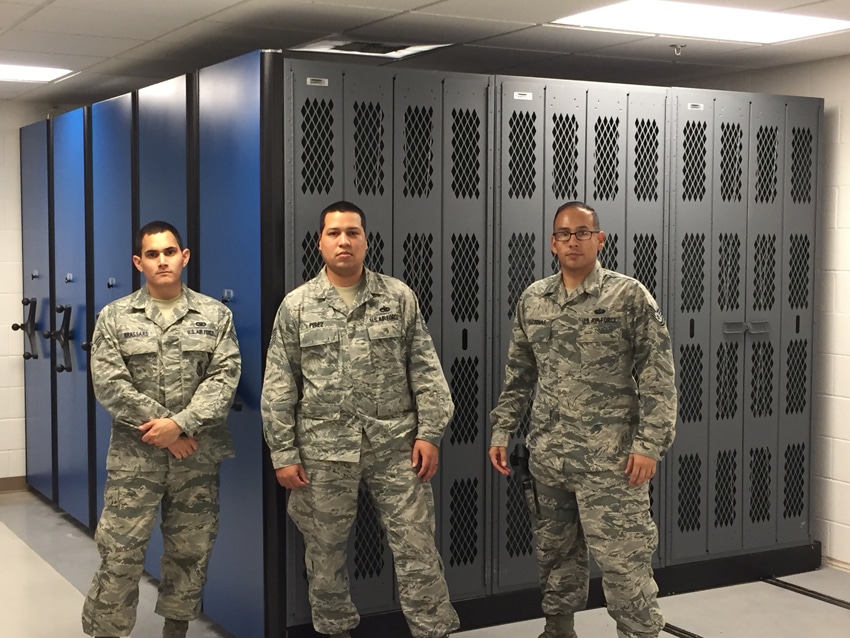 High-density storage: Armorers now can do their job efficiently
The old Dasco racks were gutted and the locks disabled. We field installed some simple shelving so they could at least be used to store gear.
Please do not hesitate to contact our Armory design group for assistance