High Density Weapon Storage MCB Camp Lejeune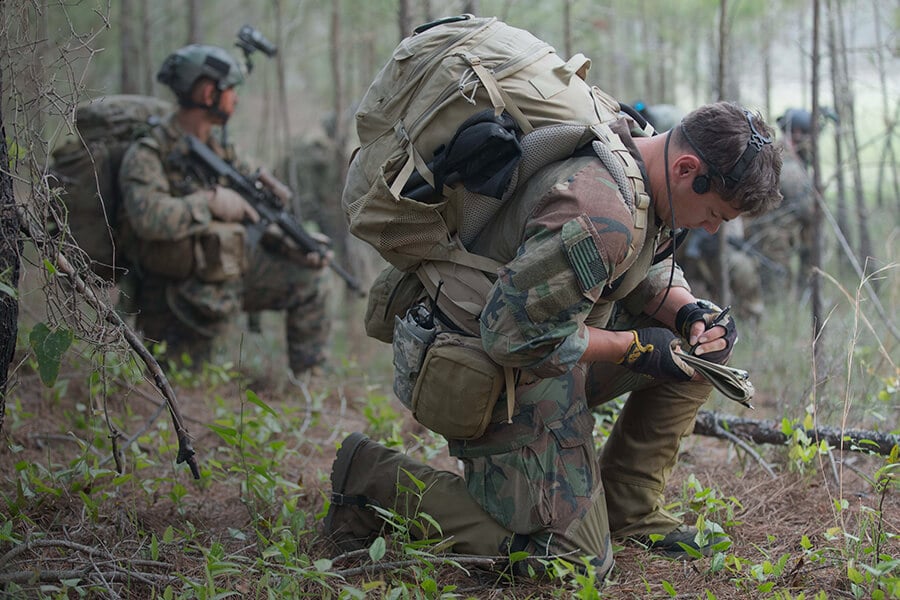 Design and install high-density weapon storage system.
Product installed: Model 84 weapon rack on high-density mobile aisle system
Armory Requirement: Provide weapons and gear storage for 480 Marines.
Gear – per soldier:
1 M4 w/ ACOG and AN/PEQ-2 mounted
1 9mm pistol
1 PVS-14 NVG in soft pack
1 Bayonet
Additional storage for M2 .50Cal machine guns and MK19 GMGs
The Challenge:
To design an affordable solution to secure and store all weapons and equipment in a limited space. Provide an ergonomic workflow to minimize armorer foot traffic and improve auditing and inventory control.
Proposal:
The SecureIt® proposal included our Model 84 weapons racks mounted on high-density mobile aisle systems. The unique features of the Model 84 rack allowed for storage and organization of each soldier's weapon and equipment in a vertical format. All weapons and gear were organized and stored by unit rather than by weapon type, thereby maximizing ergonomic workflow for the armorer. M2 machine guns and MK19 GMGs were stored in racks in an adjacent armory.
Award:
SecureIt was awarded the contract based primarily on 2 performance factors:
Superior organizational ability – Three-dimensional storage; a concept developed by SecureIt to maximize cubic storage efficiency and provide superior organizational awareness. In this case, gear was organized and stored with associated weapons.
System sustainability – In this case, command wanted a solution that would adapt to changing environments. SecureIt offered the only proposal with a solution that could adapt to weapons density (EMTOE) changes without the need to purchase additional storage products. All competing systems required the user to purchase new brackets or saddles if the weapons list changed. The flexibility of the SecureIt weapons storage platform allows for possibilities no other solution can offer. All racks can be quickly reconfigured at any time to hold virtually any infantry weapon.
Installation
SecureIt Logistics management services oversee all aspects of the installation. Space available for storing material and unloading trucks was very limited. To assure smooth operation and limit the impact to daily operations at the base, trucks were scheduled to arrive on a "just in time" basis. The mobile aisle rail and carriages required 2 days for installation. Weapon racks were installed the following day and armorers were trained on the system.
The SecureIt weapon storage platform is flexible, adaptable yet very simple. Training for the armorers takes just minutes.