Weapon Rack Fail: Did AFB Just Blow $118,553?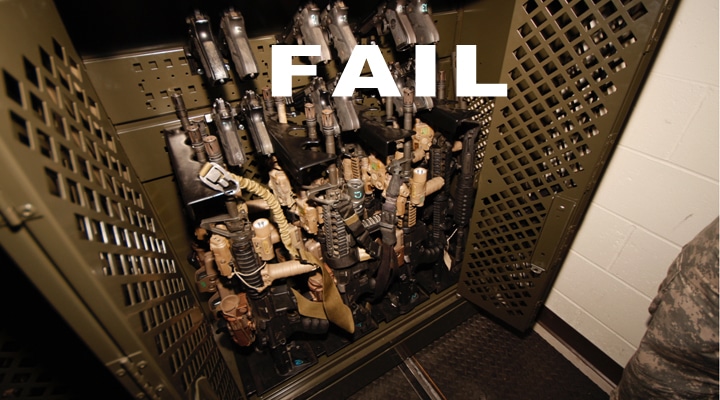 Weapon Rack Fail!
How did  Moody AFB just blow $118,553?
From FedBizOpps: 23rd Contracting Squadron at Moody AFB is issuing this notice of intent (NOI) FA4830-16-Q-Z025 to inform industry contractors the Government's intent to execute a Single Source award under FAR Part 13 – Simplified Acquisition Procedures (SAP), with Patterson Pope Inc.
This will be a Firm Fixed Price (FFP) award FA4830-16-P-0008, in the amount of $118,553.71.
What is happening here is the military is buying a bunch of components and brackets to update Spacesaver weapon racks in order to store different weapons.
Older technology systems like Spacesaver and Dasco (marketed under Sekure in the US), and the clones (Argo, Combat, Datum etc.) are all based on the old 1990s idea of building a weapon cabinet with a modular back panel, then produce a wide variety of brackets to hold different individual weapons. Each weapon system has its own unique set of brackets. We call this family of products "Bracket Racks".
This type of system, developed in the 1990s, works when first installed and the brackets match the MTOE or weapon list. The problems start when the list changes, new equipment is added or units are relocated. When changes happen the unit must go out and buy new brackets to accommodate the change. In this case, they are spending ,000! Every time things change they will have to source, either from inventory or procurement, the correct brackets. Since there really is no efficient or standardized way to store and organize weapon rack brackets, unused brackets frequently get lost. That leads to issues like this 118K purchase, which is a complete waste of taxpayer money.
Enter SecureIt™ and Cradle Grid™ Technology.
SecureIt's revolutionary CradleGrid system has only one moving part and properly stores all weapons in a military armory – from rifles and crew-served weapons to mortar canons and most shoulder launch systems. The weapon cabinets can be adjusted on the fly and no tools are required to store whatever weapon the armorer has in their hands. There is never a need to buy additional parts.
When SecureIt completed the Arms Room Assessment Contract with USASFC (Army Special Forces Command), the results clearly showed that complexity was the biggest problem. The bracket rack systems were failing. Originally designed when the military used primarily the M16, these racks simply could not adapt to the sweeping changes in infantry weapons. Modern military units field a wide variety of modular rifles, shotguns, and other weapon systems. The old bracket racks are just not designed for a variety of weapons.
The Arms Room Assessment contract was a 2-year program in which SecureIt surveyed all Special Forces armories, interviewed armorers and observed workflow. The objective was to determine why so many armories were failing inspections and performing so poorly.
"We needed a system that did not require additional components or parts yet could store all weapon systems in a modern military armory. It had to be easy to use so that an armorer could walk up and use it, without any training."
Based on the knowledge gleaned over the 2-year program, SecureIt set out to create a system that would adapt to any changes without the need to purchase additional materials. During development of the system, a large sign on the wall at SecureIt headquarters read, "Innovate and Simplify". The team knew that to be effective the solution had to be easy to understand and use. Tom Kubiniec, SecureIt President, and development team leader stated "We needed a system that did not require additional components or parts yet could store all weapon systems in the modern military armory. It had to be easy to use so that an armorer could walk up and use it, without any training."
The solution was CradleGrid Technology
The innovative solution to this widespread bracket rack problem is CradleGrid Technology, a system with just one moving part, designed to properly store any and all weapons in a military armory. The CradleGrid system has three basic components:
The Cradle :
A patented, unbreakable weapon Cradle, or saddle, engineered to properly support rifles, shotguns, larger crew-served weapons (M240, M2, MK19) and most shoulder launch weapon systems with optics attached.
The Grid :
A steel, gridded back panel that would allow for total adjustability of the cradle while being compatible with COTS (commercial off the shelf) products.
Where all other weapon storage companies use proprietary back-panels (so you must order all components from them) The Grid is a commercial back-panel used in shops and storage facilities all over the world. This allows operators to source materials almost anywhere in the world.
The Base:
A universal, unbreakable base that situates to allow for standard rifle stocks, spade grips, and larger format weapons. The universal cavity accommodates any stock and is canted backward so the weapon naturally falls into the Cradle.
The CradleGrid system not only stores all weapons but can accommodate a wide variety of gear in an organized, flexible system.
Affordable and Sustainable
SecureIt weapon storage cabinets, all of which feature revolutionary CradleGrid Technology, provide a simple and sustainable system that properly stores any weapon or weapon system and can adapt instantly and easily to any future changes. The "one moving part" simplicity of the system also costs far less to produce than the old bracket racks with all their never-ending assortment of different parts and pieces.
The final answer
The real beauty, then, of SecureIt's CradleGrid Technology-based weapons storage system is that it is mind-bogglingly simple, completely future-proof, requires no training and eliminates the possibility of blowing ,553.71. And that was just one instance. It really is the answer!
Please do not hesitate to contact our Armory design group for assistance