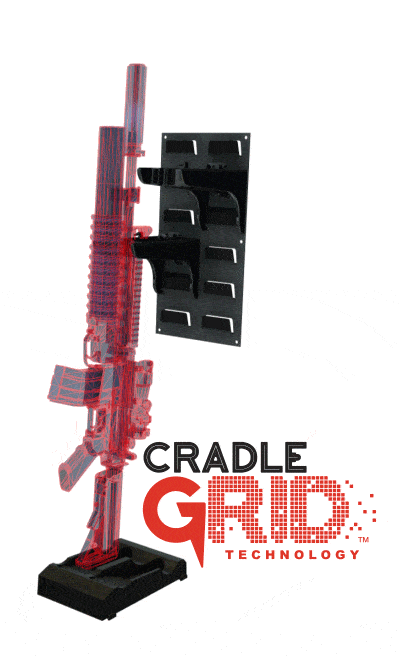 Introducing revolutionary CradleGrid™ Technology: the adaptable, adjustable and smart weapon storage system that is changing the way military armories work!
Weapons storage has not fundamentally changed in decades. It is static and certainly has not kept up with the sweeping changes in the size and shape of military weapons, especially since 2001.
Recognizing this pattern, SecureIt, in conjunction with the U.S. Army Special Forces, developed patented technology that adapts to any situation. Called CradleGrid, this ingenious system features a single moving part, the cradle, which universally fits every weapon in the armory. The cradle can be instantly repositioned on a grid that is affixed to the back wall of all SecureIt weapon racks and  cabinets for easy reconfiguration, without tools. The second part of the system is a universal base designed to accommodate the butt stock or spade grip of any weapon. The base is tiered to ensure proper lean angle.
Designed to accommodate weapons with optics
CradleGrid weapon racks also accommodate weapons with optics attached, so you'll never need to re-zero because of an inadequate weapon storage system.
Straight-line access to weapons and organizational awareness
With SecureIt's CradleGrid system, you get straight-line access to each and every weapon. There is never a need to move other weapons out of the way. You also get a comprehensive view of your entire weapons line-up for maximum efficiency. Organize your armory as you see fit, not as your storage system dictates.
Related:
---
Understanding Modern Weapon Storage.
After 15 years of designing and building military armories all over the world, I thought it was time to put my thoughts down and create a series of educational pieces about modern weapon storage.

In the last few years, several office and filing storage manufacturers have entered the weapon storage rack market. These companies do not appear to have any real experience in this field. The storage systems they are representing or manufacturing simply do not work well in military armories…. continue to Weapon Storage 101
---
Understanding High-Density Weapon Storage
Proper design is critical to long term performance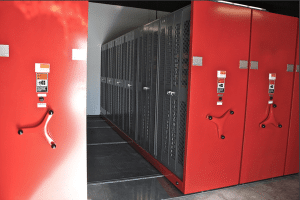 High-density weapon storage on a moving aisle system is an effective and popular way to increase arms room capacity. Proper design, material selection, and system configuration are critical to long-term performance. SecureIt has been brought into many armories to fix failed weapon rack systems. Often the cause of failure can be attributed to the installation of a high-density system that was not designed for military environments. The fault in cases like these should not be blamed on the system itself, but rather on the shoulders of the people who recommended, designed, sold and installed it.
continue to High Density Weapon Storage
---
Weapon Storage: Rebuilding Your Armory:
How Many Racks Do I Need?
The flexibility of the SecureIt weapon storage platform makes it possible. Using the our 24 Rifle Cabinet as the base you can quickly build out your armory or add to existing systems. (see: weapon Racks: How to build an armory)

One 24/24 Cabinet can be configured in minutes to store a wide variety of weapons. No additional components are required. Add a fer crew-0served weapon cabinets to round out the system. learn more: Rebuilding Weapon Storage Armories:
---
Beware of Cheap Imports!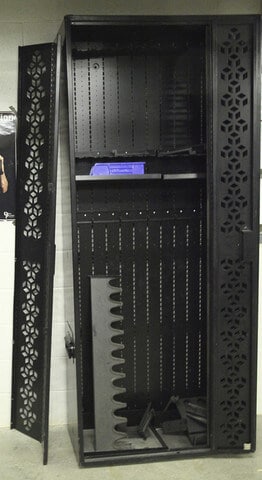 Recently we have seen what can best be described as "Cheap Import" weapon racks entering the US market. Distributors of these cheap weapon racks referenc AR190-11 and OPNAV 5530 as points to security and quality of manufacturing.
DOD requirements ( AR190-11 and OPNAVINST 5530.13C) are not standards for quality or good design.
They simply make reference to minimum standards relating to locking bars and hinges.  learn more:  Weapon racks: Beware of Cheap Imports
---
See All: Weapon Rack Knowledge Base