Beware of Cheap Imports!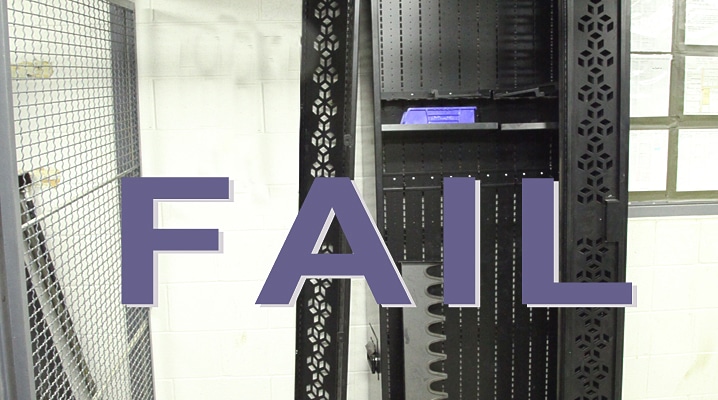 Recently we have seen what can best be described as "Cheap Import" weapon racks entering the US market. The cheap weapon cabinet distributors all make references to AR190-11 and OPNAV 5530 as reference points to security and quality of manufacturing.
DOD requirements for small arms storage ( AR190-11 and OPNAVINST 5530.13C) are not standards for quality or good design. They simply make reference to minimum performance standards relating to locking bars and hinges. Both were written at a time when the military was storing M16A1s in welded angle iron racks. Today, with the switch to modular weapon storage cabinets, these documents are of little value and in no way should be used to judge cabinet design or quality of construction.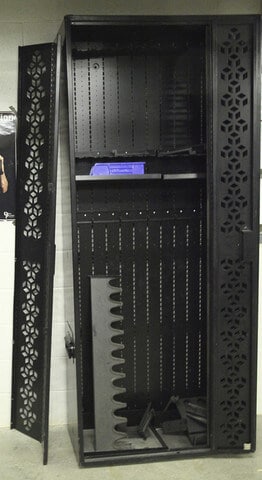 We are now seeing weapon cabinets entering the US market form cheap foreign manufactures.
Example right: I took this picture at Fort Carson. The door had broken off the cabinet. It was sitting outside the arms room. This was a result of the construction style and build quality. The door on the cabinet was held in place with 4 rivets, that's it. You can also see all the components piled up in the bottom because these cabinets and systems are not very well engineered.
It is not always easy to judge quality and performance from a PDF or printed weapon storage system proposal. To avoid products like this, it is important to evaluate not just the proposal, but also the person or company representing it.
See: Evaluating Competence of Your Sales Rep
There are many quality products on the market, however in the push for lower prices and contracting, command needs to be aware that in many cases you get what you pay for and you will end up with a system that must be replaced in just a few years.
Simply reviewing the performance specifications prior to posting a solicitation for bids can eliminate a lot of the risk of receiving a product that is inferior to what was requested or expected.
At a minimum all requests for a quote should require:
Welded cabinet construction
Door hinges must be welded, riveted door hinges will not be accepted
Cabinets must be capable of storing a wide verity of weapons and their attachments without the need to purchase additional components.
Think Long Term
Most weapon storage systems are purchased to address a current specific need. Understand that the useful life of a quality weapon storage cabinet is 15 to 20 years. With that in mind, it is important to evaluate the weapon cabinets, not just for their ability to meet current armory need, but also for their ability to adapt to future changes.
Many foreign produced weapon cabinets were never designed for US military use.
Canadian weapon racks were introduced around 2004 and have historically not been popular in the US. Those manufacturers are now trying to make a push back into the US military market. It appears they have changed their name and are now marketed under the name Sekure, which is in no way associated with SecureIt® Tactical. Sekure's weapon storage cabinets were designed from the ground up to meet a Canadian standard and Canadian way of storing and managing weapons and gear. They are not inferior to US products – they are just different. This difference can cause serious consequences when these systems are applied to a US military armory.
See: K Armory Mistake? and Should the US Military Use Import Weapon Racks?
Education is the key to make the best decision
Take the time to understand what's available, how it is made and how well it adapts to changes. Weapon storage vaults and armories are dynamic environments and changes happen frequently.
The Three keys to long-term success:
SimplicityAll things being equal, the simplest solutions are those that will withstand the test of time. Simple solutions require little or no training and anyone can use them. – As a point of reference, the Canadian system referenced above has over 225 different SKUs or parts. A US system like our Tactical Model 84 Weapon rack has about 8 components. See Curse of the Bracket Racks"
Load CapacityShelf load capacity is critical. Many Import systems on the market use lightweight shelving in an effort to keep cost down. Simply stated: there are many heavy things in armories that end up on shelves. This is not an area to go cheap. We see a lot of system failures due to insufficient cabinet and shelf load capacity
SustainabilityThe weapon storage solution you choose should provide flexibility to adapt to changes in weapons lists and armory workflow without requiring the user to purchase new, or updated components. This is a big problem with many cheap systems and some not so cheap ones.
Please take the time to review the material in our Weapon Storage 101 series. The more you know about weapon storage and armory workflow the better decisions you will make.
Also see:
9 Key Reasons to step up to SecureIt
Please do not hesitate to contact our Armory design group for assistance